Let The Games Begin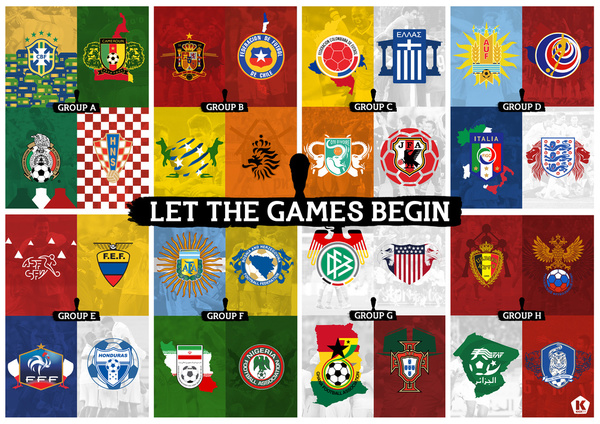 Top 5 Reasons to Watch the World.
One of the worlds most highly-anticipated sports events kicks off today in Rio de Janeiro, Brazil. The games have been mired in controversy due to the high-profile protests against the billions of dollars being spent in the face of extreme poverty. Nonetheless, the FIFA 2014 World Cup is happening. The games will pit the world's best soccer (fútbol) teams against each other in an effort to claim the equivalent of the world heavyweight championship in the land of fútbol. Defending champion Spain has an aging squad and Brazil, which was eliminated last year in the quarterfinals, is heavily favored to win for obvious reasons: Neymar, home turf and a pretty stacked team that won the Confederations Cup last year. The world is watching to see if Brazil can win the World Cup on their home turf.
There are many reasons to watch this sporting event but here are a few:
 1. Soccer is the most popular sport in the world. What other sport has 3.5 billion fans consistently and is understood, played and promoted throughout the world? Don't think that just because the United States is late to the game in terms of the popularity of soccer, that this tardiness is a reflection of the larger world.
2. If you can't get into the game, then get into the players. Soccer is known to have some McSteamy's and McHotties. Even Vogue has dedicated pages to this year's crop of fineness.
3. What is also great about the players is the fact that soccer (fútbol) fans won't care if the player plays for another country during the regular season. Unlike U.S. commentators who seem to find some way to be angry at athletes of color that play primarily for American sports teams but choose to represent their home country in Olympic sports (track and field anyone?), World Cup commentators won't wade into that muddy water.
4. In terms of teams, we want to know if Ghana, known as "Africa's team" will finally make history and make it into the Final Four.
5. It's the World Cup. Who cares whether or not you like soccer (fútbol)? It's the biggest sporting event in the freaking world and it only comes around every four years. Did we mention that it's in Brazil?
Read Full article: The Burton Wire.com