Japanese Brazilians celebrate mixed heritage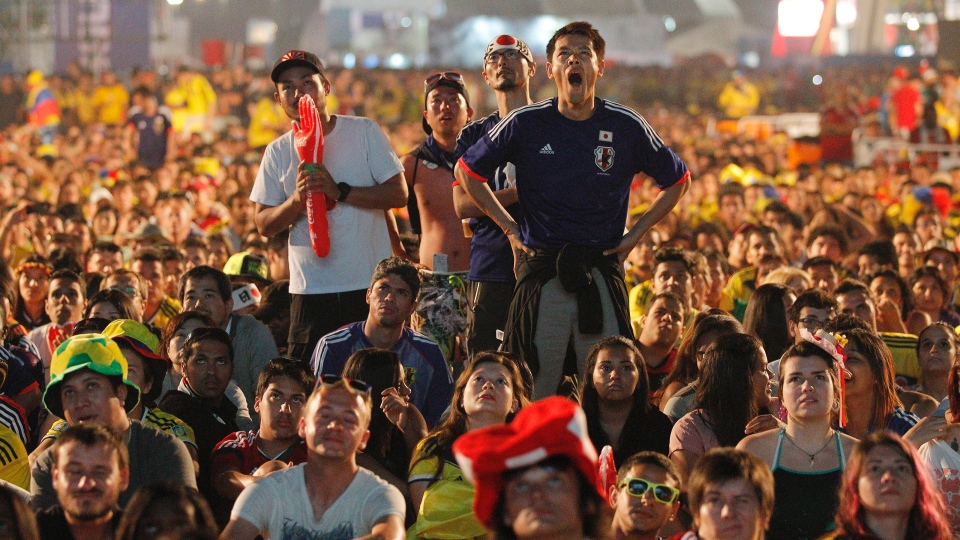 Nearly 1.5 million Japanese descendants live in Brazil, and two-thirds of those live in Sao Paulo state.
Sao Paulo, Brazil – The room was a mixture of Brazilian green and yellow and Japanese red and white, as more than 200 members of the city's large Japanese community turned out to watch the country of their ancestors take on Cote d'Ivoire in both teams' World Cup opening match.
Chants of Japao! (Japan in Portuguese) rang out through the crowd, which was dominated by navy jerseys with the names Honda, Toshio, Takaya, Shiota, and Kagawa affixed to the back. The room erupted when Japanese star Keisuke Honda put the Samurai Blue ahead in the first half, but fans were ultimately stunned when Cote d'Ivoire scored twice in two minutes to win, 2-1.
"I feel very proud that Japan is in the World Cup and that we can host them here in Brazil," said Analia Kita, before the game began. Wife of Kihatino Kita, the director of the Japanese-Brazilian Association that hosted the screening, Analia said she has tickets to cheer on Japan when the team takes on Switzerland next week in Natal.
"Between Japan and Brazil, it's going to be very hard to choose [my favourite]," she said laughing. "But it's going to have to be Brazil. I'm Brazilian."
106 years of immigration
The first wave of Japanese migrants came to Brazil in 1908 aboard the Kasato Maru. Bound for the Brazilian city of Santos, 60km south of Sao Paulo, the migrants – who worked primarily as farmers in Japan – set out to work in Brazil's coffee plantations.
Read More: Al Jazeera.com
Like UrbanStreetSoccer on Facebook. Follow UrbanStreetSoccer on Twitter @UrbanStSoccer