Boateng speaks out!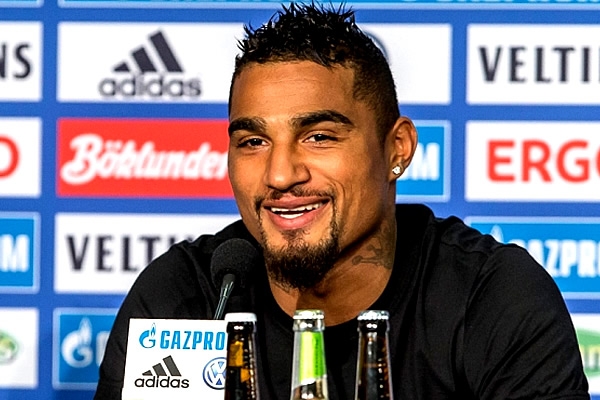 African football has yet once again showed its ugliest side and unprofessionalism by lying to the world.
Kevin Prince Boateng ripped into the entire Black Stars World Cup campaign in Brazil and the Schalke man minced no words as he spoke his heart out to journalists after the Ghanaian federation had announced that him and Sulley Muntari had been expelled from the black stars prior to their game against Portugal.
Below is his one on one with journalists in Germany and of interest is his flat denial of insulting Kwesi Appiah, the head coach as were the claims that led to his expulsion.
Prince: "I am very, very disappointed. It just wasn't a good time. The nightmare lasted from the first day of the preparations until the very end," he begins.
"I would never have thought that the preparations and the World Cup itself could be so badly organized. The hotels, the flights – everything was amateurish."
"Our president [GFA president], his wife and his two kids sat in business class on the same flight. In Brazil we finally got a chartered flight. But then the officials managed to lose my luggage somehow. I didn't have my football boots for some days, no tapes, nothing. It was disastrous."
"We flew from our first training camp in Amsterdam to Miami. But we flew in two groups, because apparently there wasn't enough space for all of us. One group went via Atlanta, the other one via New York. We sat at the airport for nine hours and the whole trip was 19 hours.
journalist:And…
prince :"The flight from Miami to Brazil a week later was 12 hours. We flew economy class, all cramped. The legs hurt. It may sound weird for normal people, but for professional sportsmen it's an impertinence."
"The only hotel were we could really prepare in was the one in Miami. We moved in there after we complained because the players didn't want to stay at the other one."
"Before the first WC game against USA we slept at a hotel, I call it a fleabag, which was definitely not recommended by FIFA. There was a severe water damage, the rooms were wet. I had to change rooms, my room had turned into a private swimming-pool because of the water dripping from the ceiling. "
Journalist: what went wrong with the coach?
Prince : "Very surprised. It was him who kept talking about me as the leader and who had declared his confidence in me. I have never had a problem with him and I have always behaved positively. But if somebody asked me whether he is a good coach… No.
Journalist: is he a good coach?
Prince: "No. But I respect him as a person, like I respect everyone. I have always accepted and respected all decision that he made. I'm just wondering why he begged me to play for Ghana when I was still at AC Milan."
"Then I make a comeback and suddenly I'm not playing anymore. The president was at one of these talks as well. He gave me his word that we were going to have better travel, better organization and better preparation. He didn't keep the promise. In the end I was just dissatisfied."
Journalist: what about the bonuses?
Prince: "No. That has become part of it and it's nearly normal. That was the smallest problem. But everything kept stacking up over the whole month. It was catastrophic. The practice conditions, sleeping conditions, everything. I just wonder where all the money goes."
"The GFA makes so much money from sponsors, through FIFA. And it's certainly not spent on hotels, flights, the squad and the preparations. "
Journalist: was there a rift among players? Poor team spirit?
Prince : "yes. It wasn't a real team. Everyone was occupied with himself, everyone was talking bad about each other. There were two or three players who were happy about Sulley Muntari's and my suspension.
"And those players exactly had told me that I was right about everything. Everyone knows that I have never insulted the coach. But they spoke against Sulley and me in front of him."
"But still, the GFA released a statement saying that you have insulted the coach. People started saying that 'Boateng couldn't control himself once again.'"
"I don't care about that at all. I'm very relaxed because I know for a fact that I have not done anything like that."
"No human being is perfect. But again: No. I have just stated my opinion. There was no player who was happy. We had a perceived 100 meetings with the delegation. We told them that there are countless things that need to be changed. That's why I'm an easy prey."
Journalist: you accused them of lying and they said you insulted the coach?
Prince: "Because I said to their faces that they are liars who permanently make promises that they never keep. We were lied to constantly.
"Like I have said before: Sulley and I were joking around at practice. The coach stopped, we said everything was OK. Suddenly I had to go to the locker room. Later I asked the coach whether he had something against me.
"He shouted at me and insulted me, for example by saying "Fuck off". Due to the rush there was a mix-up with dates. The incident happened four days before my suspension."
"If I had insulted the coach back then, why was I suspended much later on Thursday?"
"On Wednesday there was another meeting with the delegation. That's when I told the officials that they were lying to us, that they were making hollow promises.
"Four days after the incident at practice and a day after the meeting I found a white piece of paper under my door, saying I was suspended. I think everyone knows the reason. The president just turned the tables."
"There's no need to. They have basically thrown me out. I love the country and the people. But under circumstances like this it's hard for any sportsman to carry on. I will go on holidays right now and I'll return to Schalke with full force in mid-July. I'll take it from there. "
Source: Ghetto Radio.co.ke
Like UrbanStreetSoccer on Facebook. Follow UrbanStreetSoccer on Twitter @UrbanStSoccer