Beyond samba and soccer: Riots in Brazil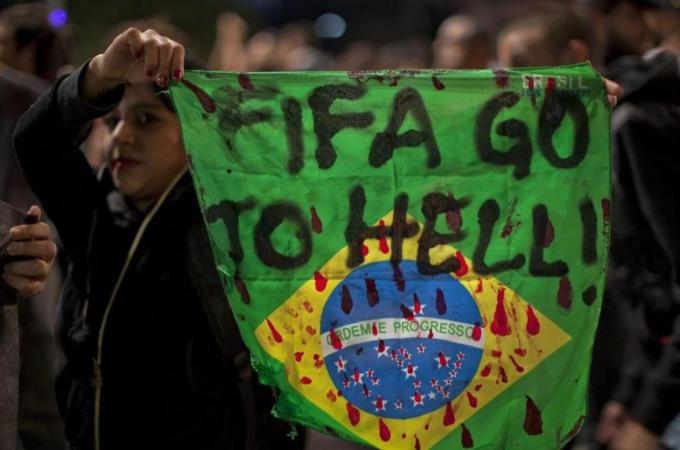 Only 22 years old, the footballer known simply as "Neymar" is far more than the "face of Brazilian soccer". Since donning the iconic, canary yellow and blue kit for the first time, Neymar has sidestepped defenders as if dancing the samba, and raced up and down the pitch with the cavalier and carnival spirit definitive of Brazilian football. 
As Neymar sprints into his prime, Brazil is primed to host its first World Cup in 64 years. This year's tournament, furnishes the Brazilian government with a rare opportunity to showcase its greatest export on its home soil. Brazil and football are synonymous: A conflation the state has engineered to carry forward its policies inside and outside of the country. Its iconic lineage of soccer stars, starting with Pele and ending with Neymar, provide the state with single-named ambassadors known and loved all over the world.
Through football and its stars, the state has crafted a global image of Brazil that – until recently – has distracted from the range of racial, economic, political and intersectional ills plaguing the South American giant. While playing abroad, the Brazilian football team embodied the stereotypical trilogy that has come to define the nation for the rest of the world: samba, soccer and sex.
However, this time the World Cup will be staged at home. And Brazil is set to host the World Cup during an impasse over riots ripping through the country. The majority of these riots or protests, are led by youth, aptly titled "Generation June", who embody a portrait of Brazil that threatens the state's neatly crafted global image.
Read More: Al Jazeera
Like UrbanStreetSoccer on Facebook. Follow UrbanStreetSoccer on Twitter @UrbanStSoccer