World Cup Sets Facebook Record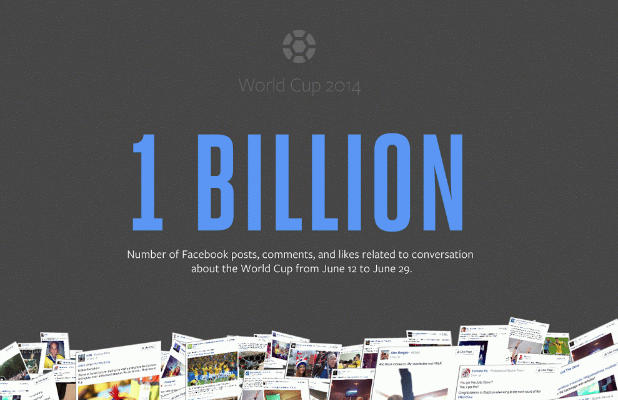 Facebook reported that the World Cup has racked up more than a billion comments, posts, and "likes" which is more than any other event in history.
About 220 million people have taken part in the unprecedented online conversation.
Knock-out matches that took place during the weekend pushed the overall number of "interactions" at Facebook past a billion.
"Facebook generally sees a large amount of conversation around sporting events, but the World Cup has proven to be a unique moment," the social network said in a blog post.
"Facebook's data editors have never measured an event — sports or otherwise — that has topped a billion interactions."
More than 31 million people engaged in 75 million posts, comments, and "likes" related to Saturday's match pitting Brazil against Chile.
That level of World Cup online activity at the social network was second only to the 140 million interactions engaged in by 58 million people during the opening match between Brazil and Croatia on June 12, according to Facebook.
Like UrbanStreetSoccer on Facebook. Follow UrbanStreetSoccer on Twitter @UrbanStSoccer