Why Brazil's youth turned against the World Cup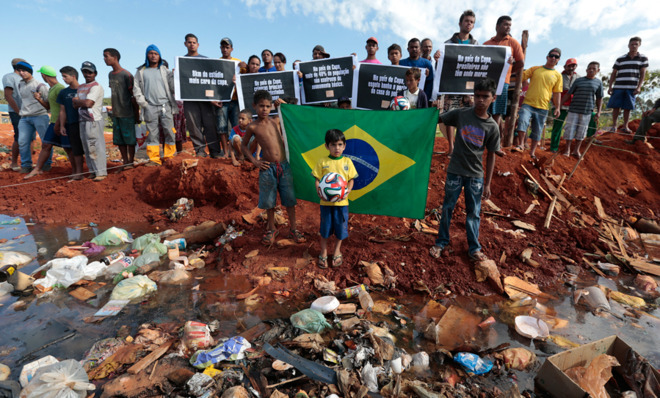 The streets of Rio de Janeiro have been Michel Oliveira's workplace for almost a decade. The 23-year-old has never set foot inside an office or had a boss. At the age of 15, Oliveira dropped out of the city's public school system to earn money selling sandwiches and snacks on Rio's famous beaches, Ipanema and Copacabana.
Today, he sells everything from pantyhose to phone chargers near the ports of Central Rio, an area heavily in transition since the city targeted it for renovation and development ahead of this year's World Cup, currently the subject of large-scale public opposition, and the 2016 Olympic Games.
The historic Mauá Square, once a bustling crossroads for Central Rio's office workers, has been leveled. Colonial palaces commissioned by the Portuguese royal family in the 1800s today house government offices, cultural centers, and private businesses. In two years, developers say, this will be one of the most trafficked tourist areas in the city. But for now, Oliveira's business is dwindling as construction increases.
In the meantime, unsure of the city's plans for street vendors in Mauá Square, Oliveira cannot help but question the choices he made as a teenager and the opportunities his generation has had. While Brazilian leaders hope the coming mega events will set the stage for the country's coming-out party as an economic force to be reckoned with, young Brazilians like Oliveira tell a less promising tale. Unable to find sustainable employment in Brazil, about 42 percent of employed youth work informally, often as vendors, day laborers, or waste pickers, according to numbers from the Brazilian Institute of Geography and Statistics.
Though Brazil's youth unemployment rate is a formidable 15.6 percent, the larger problem for young people is actually underemployment. Working youth may be making a living, but they are not building careers. And the problem, Oliveira said, starts even before they begin looking for jobs: with education.
"There was no point in going to school," said Oliveira, whose parents and grandparents also worked in the informal economy, eventually affording a comfortable home in Nova Holanda, one of the 16 favelas in Rio's Complexo da Maré. His classrooms lacked enough textbooks and school supplies for the more than 30 other students who had little interest in being there.
Read More: The Week
Like UrbanStreetSoccer on Facebook. Follow UrbanStreetSoccer on Twitter @UrbanStSoccer