Argentina-Brazil Rivalry Too Hot for Brotherhood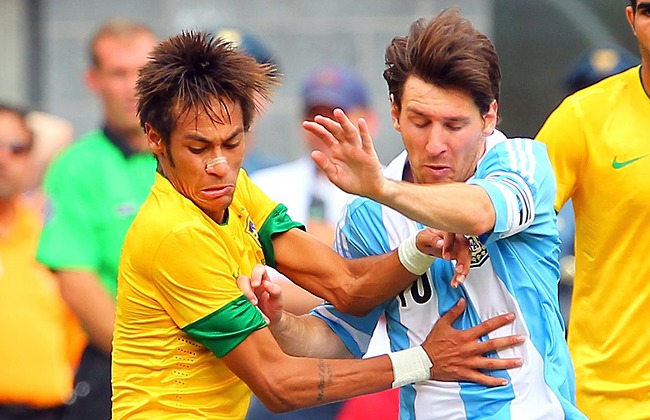 This World Cup has seen Latin American soccer fans cheering for each others' teams. Not Argentines and Brazilians, whose rivalry remains stubbornly in place.
Quarrels between fans of South America's two biggest countries have broken out in stadiums as supporters taunt each other. Police intervened in Belo Horizonte where Argentina fans and host Brazil threw bottles and projectiles at each other before a game.
Tens of thousands of Argentines are arriving in Sao Paulo for a knockout stage game today against Switzerland. At least 37,000, mostly without tickets, traveled to Porto Alegre on June 25 for Argentina's final group match. That game triggered security alerts and a few incidents including burglary. On the pitch, the biggest stars of each team, Lionel Messi and Neymar, are fighting neck-and-neck with Colombia's James Rodriguez to become the tournament's top goal scorer.
Both countries share soccer as a dominant passion and it leads to contention despite historic economic and cultural ties, said Newton de Oliveira Santos, a researcher who wrote a book about the history of the soccer rivalry between the countries. Both claim to have produced the top player. The Argentines say it is 1986 World Cup winner Diego Maradona, while Brazilians say record 3-time champion Pele is the undisputed "King" of soccer.
Source: Bloomberg
Like UrbanStreetSoccer on Facebook. Follow UrbanStreetSoccer on Twitter @UrbanStSoccer