Bayern Munich Is Open for Business in U.S.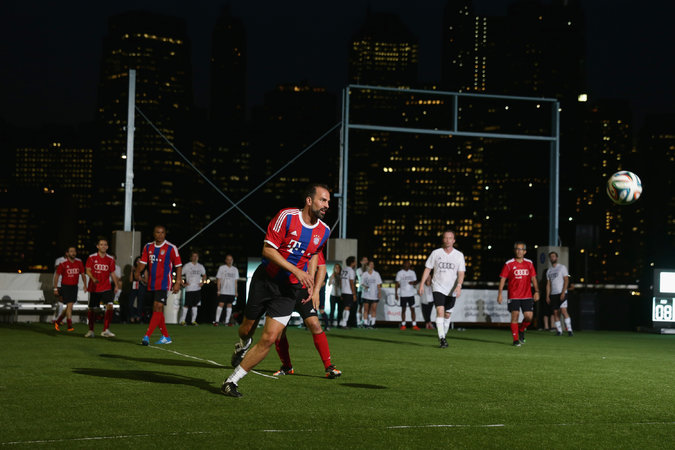 Bayern Munich, the mightiest of the clubs in Germany's Bundesliga, picked an appropriate time to begin building a year-round presence in the United States.
It won five titles last year, including the trophies for the Champions League and the European Super Cup, and the Bundesliga signed a global television deal with 21st Century Fox.
Germany won the World Cup last month with seven Bayern players; eight others were also on World Cup rosters.
Now the team is in the United States, having defeated Chivas Guadalajara of Mexico, 1-0, on Thursday night at Red Bull Arena in Harrison, N.J., before facing the Major League Soccer All-Stars on Wednesday at Providence Park in Portland, Ore. The trip is part of Bayern's plan to make fans feel closer to the team of Thomas Müller, Franck Ribéry and Arjen Robben while adding revenue it would not make in Munich.
"We are coming to the States, and we are staying here," said Rudolf Vidal, the managing director of Bayern's United States division, which has a mandate to market sponsorship possibilities to American companies and sell merchandise to American fans through a new website and online store.
The strategy behind establishing a full-time United States office was conceived shortly before the Fox deal with the Bundesliga, which, in the United States, will start in 2015 and last for five years. That will give Bayern and the league a boost with American audiences that could be similar to the success NBCSN had last season with Premier League games from England.
"Bayern is without a doubt the dominant team in the Bundesliga," said David Nathanson, the chief operating officer of Fox Sports 1 and 2, which will show the league's games. "They've had some great rivals, but ultimately, it is the winningest team in Germany. For them to be a global powerhouse, opening an office in New York will let them have more touch points in this country."
International soccer clubs have long traveled to North America in the summer to play exhibitions as part of their preseason training. Real Madrid, Barcelona, Milan and Manchester United have used these trips to expand their fan bases, which in recent years have increasingly been able to watch European and South American clubs on television.
Read More: NYTimes
Like UrbanStreetSoccer on Facebook. Follow UrbanStreetSoccer on Twitter @UrbanStSoccer