James Rodríguez signs with Real Madrid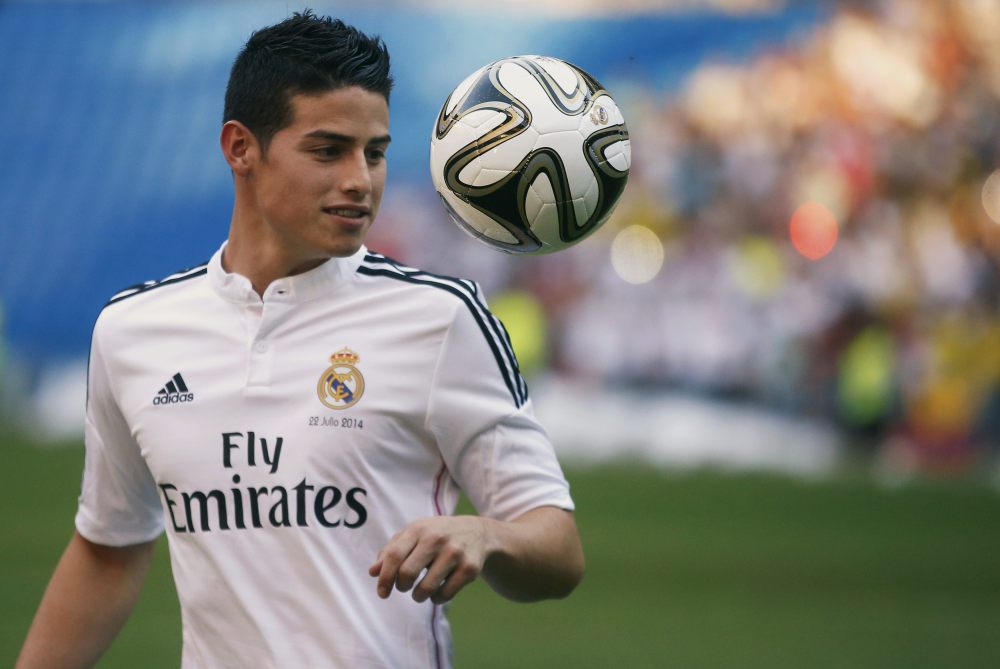 The unexpected star of the World Cup finals, Colombia's James Rodríguez, has signed for Real Madrid for a reported £63m.
The 23-year-old follows the signing of another key midfielder from the World Cup, Germany's Toni Kroos who joined for a bargain £20m, and will be given the No10 shirt which was last worn by Mesut Özil.
He passed a medical in the Spanish capital on Tuesday morning and has agreed a six-year deal at the Bernabéu. He was presented to Real Madrid's fans in their stadium on Tuesday night.
He emerged to a rapturous reception from a 45,000-strong crowd, around a third of whom were wearing Colombia shirts.
Then while he kicked balls into the crowd – as is traditional for new high-profile arrivals to do – he was rushed by several enthusiastic supporters and made a point of embracing them before they were ushered away by security.
He said: "I've always followed Real Madrid and always dreamed of playing here. I've suffered a lot to get here and when you do that then it tastes so much better.
"I will never forget this day. I hope to work hard, to train well, and to experience a lot of joy here. I know I am under a lot of pressure, but I am happy to face it."
he fee makes Rodriguez the fourth most expensive transfer of all time after Real's £86m for Gareth Bale and £80m for Cristiano Ronaldo, and Barcelona's £75m for Luis Suárez.
"The numbers mean nothing to me," he said. "I just want to help make history and bring joy to the Madrid fans.
"This is a club which is used to winning and I'm prepared mentally and physically to do so. It is a pleasure to be among so many stars and I'm sure I'll learn a lot from everyone."
Rodríguez was one of the revelations of the World Cup, scoring in each of Colombia's games as they reached the quarter-finals of the competition for the first time, eventually losing 2-1 to the hosts Brazil.
He scored six goals at the World Cup to finish as the leading scorer – one clear of Thomas Müller – while his 25-yard volley against Uruguay was voted goal of the tournament.
Source: The Gaurdian
Like UrbanStreetSoccer on Facebook. Follow UrbanStreetSoccer on Twitter @UrbanStSoccer